Sweater fits children's sizes 5/6 to 14
Finished chest measures 25.7" - 34"
Legwarmers are sized in lengths from 16.75" to 21.75"
Worsted weight wool or wool blend yarn
#6 Needles (US) for sweater
Gauge: 5 sts & 7 rows = 1"
Detail of Front Bands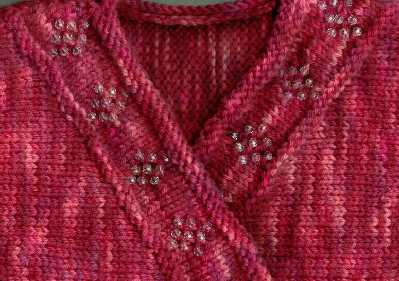 Correction Notice
November 7, 2000
Two errors have been discovered in the original version of the pattern (S-00698). These have been corrected in patterns numbered S-00698v2. Both corrections are on page 2 of the pattern. Note that in the original pattern the changes for each size are in columns to the right of the instructions; however, for clarity in the corrections below, the changes for each size are included in the sentences themselves.
Correction 1
The final instruction for the BACK reads: "Work 3 rows even." this is incorrect. The correct version should read:
Work even in stockinette for 4(4,6,6) rows. Bind off.
Correction 2
In the instructions for RIGHT FRONT, in the section called Shape Shoulder, the third sentence reads: "Work 5 more rows in stockinette." This should read:
Work 5(6,8,8) rows in stockinette.
Please accept my apologies for any problems this may have caused.
Margaret Radcliffe
Owner
Maggie's Rags
Questions or suggestions? Contact us
All text and images copyright © 1998-2000, 2001 Margaret K.K. Radcliffe