Fits Misses sizes 4-18 and Women's sizes 40-50. (Chests 34" to 52")
Worsted weight yarn.
Model was knit in Oak Grove Yarns Glimmer Kid (80% Kid Mohair, 12% Wool, 8% Nylon)
US #9 Needles (5.5 mm))
Gauge: 20 sts = 4.5" (11 cm)
You may contact Oak Grove Yarns for yarn and patterns at:
Oak Grove Yarns
PO Box 531
Putney, VT 05346
802-387-5934
For pattern only, please contact one of the many stores that stock our patterns.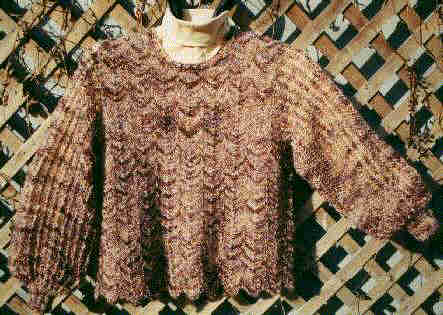 Correction Notice
November 13, 2000
An error has been discovered in the pattern for this sweater. This error has been corrected on the version numbered S-01099v2.
On page 2, at the bottom, in the Sleeve instructions, it reads "On next row, work one stitch at edge in stockinette, then work ____ sts in Fagotted Rib." Size 40-44 indicates that 49 sts should be worked in Fagotted Rib. This should be 46 sts. All other sizes are correct.
Please accept my apologies for any problems this may have caused.
Margaret Radcliffe
Owner
Maggie's Rags
Questions or suggestions? Contact us
All text and images copyright © 2000, 2002 Margaret K.K. Radcliffe