Fits Misses sizes 4-20 and Women's sizes 40-50.
(Chests 33" to 54")
Worsted weight silk, cotton or linen yarn.
#6 US Needles (4 mm)
Gauge: 16 sts = 4"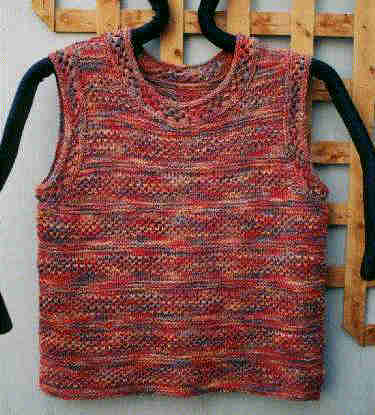 Model knit in Cherry Tree Hill Yarns Rustic Silk, color "cabin fever."
Unfortunately this yarn has been discontinued, but you can substitute any worsted weight yarn. Inelastic, non-wool yarns will be most successful in this garment. Look for yarns made of cotton, linen, silk, rayon, hemp, bamboo, etc. Other yarns from Cherry Tree Hill that may be substituted are North Country Cotton and Ladera.
Correction Notice
July 25, 2002
An error has been discovered in the pattern for this sweater. This error has been corrected on the version numbered S-00999v2.
On page 2, in the section Front, Neck Shaping, for the smallest size, it says "Work across 22 sts, Bind off 9 sts, work to end of row." This should read "Work 22 sts, Bind off 11 sts, work to end of row." All other sizes are correct.
Please accept my apologies for any problems this may have caused.
Margaret Radcliffe
Owner
Maggie's Rags
Questions or suggestions? Contact us
All text and images copyright © 1998-2002 Margaret K.K. Radcliffe