S-01698 Seashore Sweater
Sweater fits children's sizes 2 to 14
Finished chest measures 24" - 36"
Two colors of Worsted weight wool or wool blend yarn
#7 Needles (US) for sweater
Gauge: 5 sts = 1"
Matching Seashore Hat
Matching Seashore Socks
Back to Kids Patterns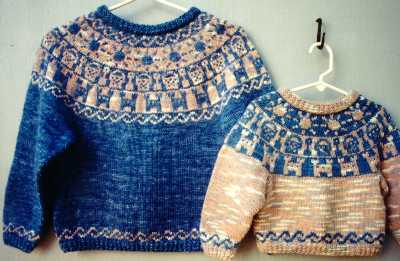 Correction Notice
April 2, 2000
It was discovered that the yarn amounts specified in grams were incorrect in the original version of this pattern. If you have a copy of the pattern numbered S-01698 (found in the lower right hand corner of each page), your pattern has this problem. However, ounces and yardage are shown correctly.
The amounts have been corrected in the new version of the pattern, S-01698v2.
The table below shows the corrected amounts. If you have a copy of the original version of the pattern, please print out a copy of the table as a reference.
Please accept my apologies for any problems this may have caused.
Margaret Radcliffe, Owner
Maggie's Rags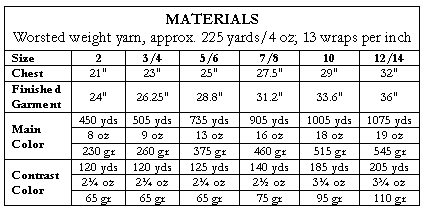 Questions or suggestions? Contact us
All text and images copyright © 1999-2002 Margaret K.K. Radcliffe