S-00105 Helix Hiker Socks
Socks fits kids sizes through adult
Knit from two colors of worsted weight wool
#4 US (3.5mm) Needles
Gauge: 22 stitches = 4" (10 cm) in broken garter stitch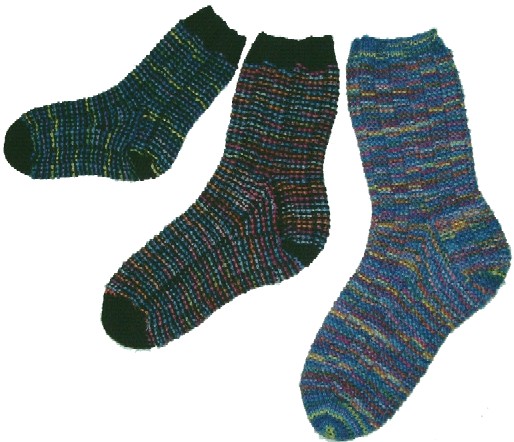 What's so great about these socks?
• Broken Garter pattern stitch provides a comfy cushion for hardworking feet.
• Pattern stitch also does incredible things for the handpainted yarns.
• Two strands of yarn spiral continuously around these hiking socks to form a double helix, so there are no extra ends to weave in.
• An added bonus—they stretch amazingly to fit growing feet so they're great for kids!
Questions or suggestions? Contact us
All text and images copyright © 2005 Margaret K.K. Radcliffe