S-00305 Hiker Socks
Socks fits kids sizes through adult
Knit from worsted weight wool
#4 US (3.5mm) Needles
Gauge: 22 stitches = 4" (10 cm) in broken garter stitch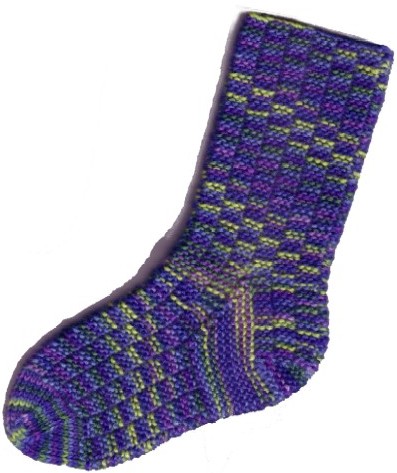 What's so great about these socks?
• Broken Garter pattern stitch provides a comfy cushion for hardworking feet.
• Pattern stitch also does incredible things for the handpainted yarns.
• Only one strand of yarn—no complicate color changes.
• An added bonus—they stretch amazingly to fit growing feet so they're great for kids!
Correction Notice
August 19, 2008
The centimeter measurements for the length of the sock from the top cast on to the heel (page 2) were incorrect. This is corrected in the patterns numbered S-00305v2. The pattern should read:
Please accept my apologies for this error.
Margaret Radcliffe
Owner
Maggie's Rags
Questions or suggestions? Contact us
All text and images copyright © 2005, 2008 Margaret K.K. Radcliffe