Witch's Hat
This hat "recipe" is based on the concepts I teach in my Fantastic No-Gauge Hats workshop.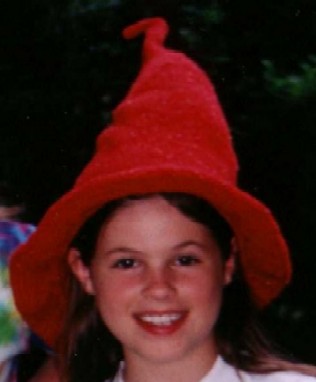 Materials - Any yarn. Worsted weight or thicker is recommended and you can use a double strand if desired. Thicker yarn will make a thicker fabric that will hold its shape better. It's impossible to say exactly how much you'll need, because it depends on what weight yarn you use and how big you make the hat. Start with about 8 oz (228 gr) and you shouldn't run out!
Needles - Set of 4 or 5 double pointed needles, a 16" long circular needle (optional), and a 24" circular needle. For a soft floppy hat, use the needle size you normally would with this yarn to make a hat or a sweater. For a hat that holds its shape better, use 1 to 3 needle sizes smaller.
Begin at the top of the hat. Using two double pointed needles, cast on 3 or 4 stitches and work i-cord for as long as you like (2-3"/5-7 cm is good). You'll find text instructions for making i-cord here and video here.
Increase 1 stitch at end of each row of i-cord until there are 6 stitches. Divide these between three dp needles and mark your beginning of round. (I like to use a safety pin placed between two stitches and move it up closer to the needles periodically as the knitting grows.)
Continue to work around increasing 1 stitch at the end of each round. Periodically, rearrange your stitches on the needles so that they are about evenly divided. You may want to introduce a 4th double pointed needle when the original 3 become too full. When the double pointed needles become full, switch to the 16" needle, then to the 24" needle.
When the hat is big enough to fit around the intended head, continue working (and increasing at the end of every round) a little further, so the hat will come down to the wearer's ears.
Brim
Note that the brim is two layers thick, to keep it from flopping. You'll knit the top layer first, out from the hat, then the bottom layer.
Begin working in garter stitch (that is, knit one round, purl one round). On the first knit round, increase enough stitches, evenly spaced around, so that you have a multiple of 8 stitches. Note how many stitches you have at this point.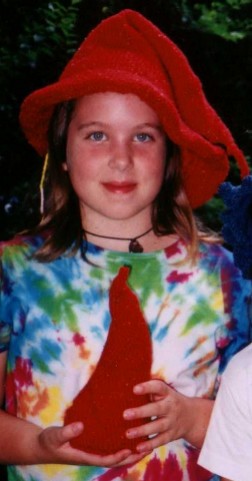 On each of the following knit rounds, increase 8 stitches evenly spaced around. For a more circular brim (rather than octagonal), don't make your increases in the same spot each time. For example, place the increases on one round halfway between where they were on the previous increase round. Remember to PURL the rounds in between!
When the brim is as wide as you want it, reverse the process. To do this, continue to work in garter stitch, but DECREASE 8 stitches evenly space around on the knit rounds until you are back to the number of stitches you had when you started the brim.
Finishing
You may bind off loosely, then loosely sew the bound off edge to the inside of the hat where it meets the brim. Or, you may sew the "live" stitches down without binding off. Weave in end on inside of hat. Pull yarn at cast on through to the inside using a yarn needle.
Notes
For a witch's hat that actually stands up, knit a cone insert. Start just like the hat itself, but only do 1/2" of i-cord. Continue to work until the cone is just long enough to fill the hat down to the top of the wearer's head. At this point, begin working in garter stitch and decreasing to make a bottom for the cone. On the first knit round, decrease until you have a multiple of 8 stitches. On the rest of the knit rounds, decrease 8 stitches evenly spaced around. While there's still an opening big enough to fit your fingers in, stuff the cone with unspun wool, cotton, or polyester fiberfill. Continue decreasing, working in garter stitch, until 8 stitches remain. Cut yarn, pull through remaining stitches (it's best to go around TWICE), and pull the yarn through to the inside. Pull yarn at cast on through to the inside using a yarn needle.
Questions or suggestions?? Contact us
All text and images copyright © 2005, 2008 Margaret K.K. Radcliffe