Knitting Tips

This selection of knitting tips is based on questions we've received. If one person has a question, we're sure that many others must be wondering the same thing. Whenever we come up with an answer to a new question, we'll add the answer here to benefit everyone.

Don't see your question here? Check out Maggie's book...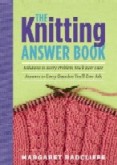 Learning to Knit/New Techniques
Knitting Techniques at Dollettes-n-Things
A great list of learn to knit links at About.com
A good overall introduction to knitting at Knit World.
How do I start a new ball of yarn?
My child wants me to teach her/him to knit. Where do I start?
How do I knit around on circular needles?
What is "finger knitting" and how do you do it?
What is the difference between "intarsia" and "Fair Isle" knitting?
How do you make a pom pom?
What is I-cord, and how is it done?
How do you knit into the stitch below?
Casting On and Binding Off
Is there a way to cast on without measuring out a long tail?
My cast on is too tight.
My cast on stitches are too tall.
After casting on, am I on the right side or the wrong side?
How do I bind off?
After binding off, what do I do with the yarn that I have cut off?
How do I get rid of "stair steps" when I bind off over several rows?
Yarn
What does "worsted" yarn mean?
How is knitting with ribbon different than knitting with regular yarn?
How do I get the "wiggles" out of unraveled yarn?
Finishing
What is the best way to sew up your sweater?
When I pick up stitches around a neckline, sometimes there are gaps.
How do I block a garment?
Troubleshooting Your Problems
My knititng is curling up! How do I fix this?
Loose stitches and gaps between needles with double pointed needles
I can't knit and then purl in the same row. I always have odd results.
My knitting is slanting. What causes this and how can I fix it?
How can I lengthen a finished sweater?
My knitting keeps getting wider at the edges.
Corrugated Ribbing: Problems and Solutions
Reading Patterns
What does "End with a wrong side row" mean?
Is there a difference between an"increase" and a "yarn over"?
Is there a list of knitting abbreviations somewhere?
How can I find the meaning of foreign knitting terms?
What does "knit into the stitch below" mean?
Et Cetera
Where can I find a pattern for a dog sweater?
How are knitting needles made?
If you have an unanswered question of your own, please contact us.
Questions or suggestions?? Contact us
All text and images copyright © 1998-2003,2005-2007 Margaret K.K. Radcliffe