Knitting into the Stitch Below
First of all, what is "knitting into the stitch below"? Normally you insert your right needle into the first stitch on the left needle. A new stitch is formed by pulling the working yarn through that single stitch. To knit into the stitch below, you insert your right needle into the stitch one row below this first stitch, as shown below: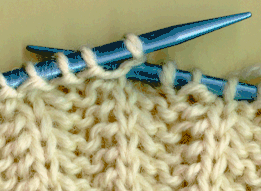 When you pull the working yarn through to create a new stitch, it is pulled through one row lower than normal. After the new stitch is completed, there are two strands of yarn around its base. One strand is the stitch from the "row below" and the second strand is from the stitch you normally knit into. The strand from the "row below" is lifted higher than the other stitches in its row, making an inverted "V."
Why use this technique?
When these Vs are repeated in a knitted fabric, they add visual interest because of the diagonal lines they create, add more depth to the fabric, make it thicker and softer. When they are worked on both sides of the fabric, they can create a very deep rib. Many of these patterns, which are in the "waffle stitch" family, have a wonderful effect when worked in variegated yarns. Because they are based on garter stitch, most of them require no edging and are very useful for place mats, bags, blankets, collars, shawls and scarves.
Examples of these Pattern Stitches
"Rose Fabric" pattern stitch is used in:
Rose Garden Sleeveless Top
Plaits and Diamonds Gansey
Rose Fabric Hat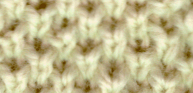 "Shaker Rib" or "Brioche" is used in the Shaker Rib Hat.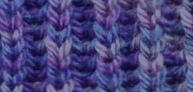 "Waffle Stitch" is used in the Tassled Hat












Questions or suggestions?? Contact us
All text and images copyright © 2001, 2002 Margaret K.K. Radcliffe