Rose Fabric Hat

This hat will fit child's medium (about ages 5-10).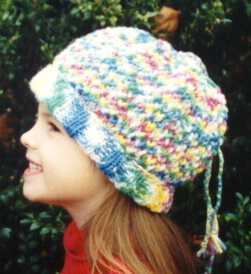 Materials: Worsted weight yarn.
Needles: #6 US - 16" circular
Instructions:
To make a larger or smaller hat, cast on more or fewer stitches (always use an even number) and make the hat shorter or longer as desired.
Rose Fabric Pattern Stitch:
Round 1: Purl
Round 2: *K1, K into the stitch below* repeat around
Round 3: Purl
Round 4: *K into the stitch below, K1* repeat around
Repeat these 4 rows for pattern. Note that to "knit into the stitch below," insert the tip of the needle into the stitch directly below the one you would normally knit. When the stitch has been knitted and slipped off the left needle, both strands (from the last 2 rows) will have been knitted up by the current stitch.
Cast on 80 sts. Join ends of row being careful not to twist knitting.
Work circularly in K2 P2 ribbing for 3".
Work in Rose Fabric Pattern until hat is 7 1/2" long.
Work in K1 P1 ribbing for 3 rounds.
K2tog around (40 sts).
K 4 rounds.
Break off yarn and pull end through remaining stitches. Weave in ends.
Add pompon, tassel, or braided cords to peak of hat.












Questions or suggestions?? Contact us
All text and images copyright © 1998, 2001, 2002 Margaret K.K. Radcliffe